02 Dec 2019
WHATTYRE.COM TO DEBUT AT AUTOSPORT INTERNATIONAL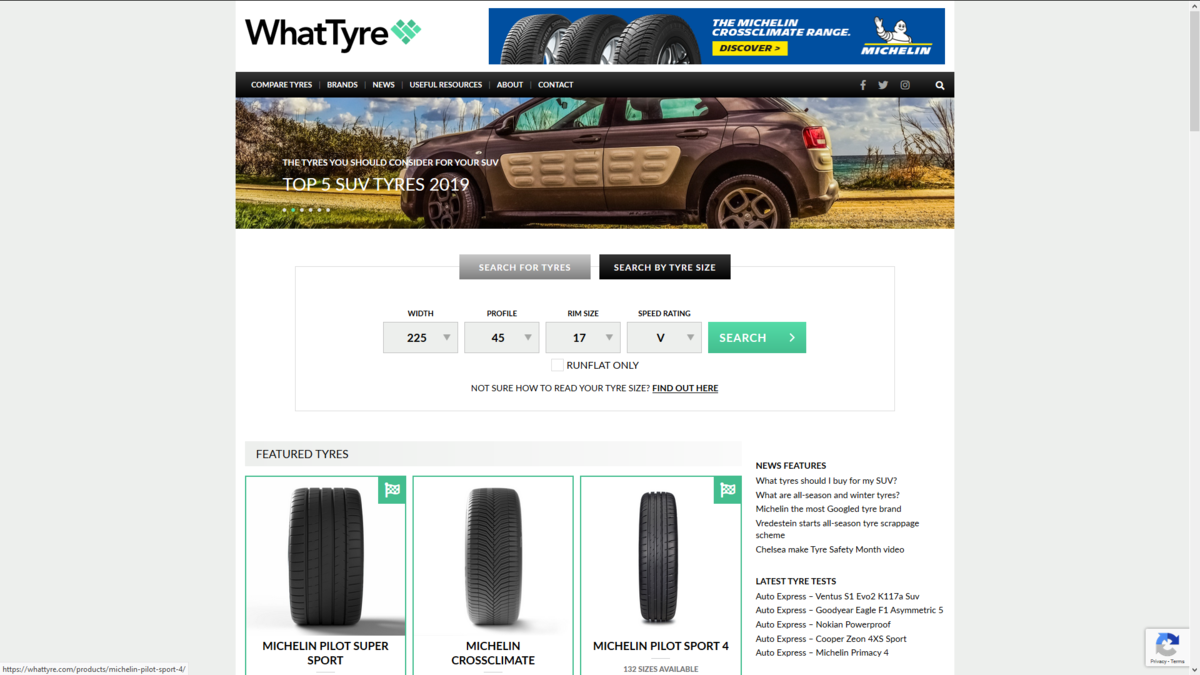 WhatTyre is a new tyre comparison website that emphasises product quality

The site and its social media channels (@WhatTyre) are run by editors with 40 years' collective experience of covering the tyre industry

WhatTyre will welcome industry campaign group TyreSafe to Stand 3530 to communicate the safety benefits of quality new, well-maintained tyres
Tyre comparison website WhatTyre.com will make its exhibition debut at Autosport International, from 9-12 January (Stand 3530, Birmingham NEC). Presenting a new and convenient way to find the best tyre for you, the site uses a unique TyreScore algorithm to rank more than 180,000 tyres according to their performance. The site will be joined at the show by TyreSafe, in order to promote the importance of high-quality, well-maintained tyres.
WhatTyre was launched in 2019 by Tyre Industry Publications Ltd to give consumers the tools and information they need to select the best tyres for them. Industry analysis shows that 60% of UK tyre purchases are researched online. This presents the opportunity to communicate more information about the performance of this highly engineered and perennially underestimated product.
Using a wide range of data sources, including its own database containing thousands of quality independent tyre tests, WhatTyre makes it easy for all motorists to make an informed tyre purchasing decision.
"We know that too many motorists are making their decision to buy a tyre based largely, if not exclusively, on price," says WhatTyre managing editor, Chris Anthony, "and the quality of the available products is extremely variable. WhatTyre's database shows that more than 500 brands are available in the UK. Our independent and impartial TyreScore, alongside a range of performance filters, allows customers to find the best tyres for them."
While WhatTyre also includes prices from more than a dozen – and increasing – tyre retailers, its focus is on product performance. "In the past, tyre comparison sites have generally offered price comparison, which creates a race to the bottom in terms of price and doesn't take the chance to positively influence tyre-buyers. WhatTyre helps consumers to select tyres primarily based on product performance," adds WhatTyre features editor Stephen Goodchild.
Over the four days of Autosport International, WhatTyre will host the award-winning campaign group TyreSafe on Stand 3530. The organisation will demonstrate how to conduct basic safety checks to ensure tyres are well-maintained. It will also warn motorists against fitting part worn tyres, which currently account for an average estimate of 15 per cent of UK tyre sales.
"Part worn tyres continue to be popular with UK motorists. Yet most used tyres sold do not even get basic safety checks, and many are sold with only a millimetre or two of usable tread left. Quality new tyres, with a high WhatTyre TyreScore, offer both a high standard of safety and much better value for money," WhatTyre digital editor Andrew Bogie adds.